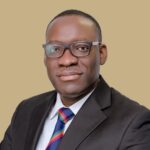 Azubuike Egwuenu
General Manager, Technical & Assets
Azubuike holds a B.SC. in Chemical Engineering from the University of Lagos and a M.Sc. in Petroleum Engineering from the University of Texas at Austin, USA.
He started his career with Arthur Andersen (Now KPMG Nigeria) in the Business assurance division before joining the Oil and Gas industry in 2005 as a Reservoir Engineer with ExxonMobil. He has worked in the industry in several technical and leadership capacities across ExxonMobil subsidiaries in Nigeria and in the United states involving both local and international stakeholders. He has invaluable experience and expertise in oil and gas asset life cycle spanning exploration, development, and production across Shallow and Deepwater assets. He has held assignments in production surveillance and management, Asset development and depletion planning,  New development project technical and commercial maturation, portfolio strategy and commercial evaluations, value chain optimization etc.
As General Manager, Technical & Assets, he is responsible for performance monitoring and value optimization of existing SAPETRO assets, technical assurance and maturation of identified growth opportunities and new ventures, as well as managing relationships with Joint Venture Partners and regulatory stakeholders.